Step back in time
Explore two quaint, heritage villages nestled in the glorious foothills of Mount Gulaga.
The two quaint villages of Central Tilba and Tilba Tilba offer a unique opportunity to step back in time and visit perfectly preserved colonial heritage villages.
Drive into Bate St, Central Tilba and you'll feel transported to another era, full of colourful old world shops nestled amongst a forever green landscape. Sample incredible dairy, milkshakes and cheese at the cheese factory, or sit down with a scone and a cuppa at one of the cafes… after all, you'll need the energy to wander through all of Tilba's fantastically unique shops!
Scattered throughout the rolling hills are romantic getaways and loads of accomodation options for a memorable holiday.
The Cheese Factory
A must-do item in central tilba is a visit to tilba real dairy for amazing cheese, milkshakes & more.
Tilba is the home of Tilba Real Dairy, a 100% Australian owned and operated, multiple award winning dairy business.
Tilba Real Dairy produces the creamiest milk, yoghurt, cheese and milkshakes that will blow your mind and tantalize your taste buds.
The milk is sourced from the family dairy farm in the picturesque Tilba Tilba Valley, where we produce the creamiest, sweetest milk from the famous beautiful Jersey cow. Tilba has clean air, pristine water and a bucket load of history.
Read more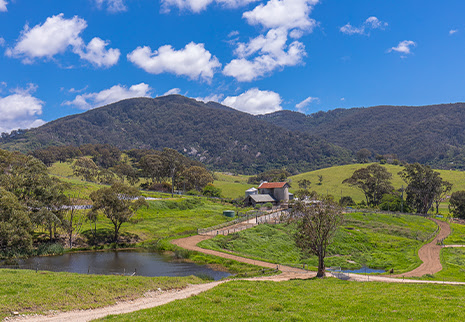 Slow Down & Explore
Take some time out and explore the highlights of Tilba Tilba & Central Tilba
For pub goers, you can grab a cold beer or craft gin at the Dromedary Hotel… not to mention some of the best food in the area. There's also gardens to explore, natural walks and the infamous Gulaga trail (are you ready to conquer it?).
You simply can't miss out on the Tilba Valley Wine & Ale House either , where there's live music playing, great food, wine and local beers – all in a tranquil bush setting on the shores of Lake Corunna.
Tilba is the perfect place to enjoy the region in more depth, only moments away from enjoying the beaches and waterways of Narooma & Bermagui.
The Tilba region is the ideal base to enjoy a South Coast holiday. Stay a little longer at one of the many local accommodation options.